RISCONE DI BRUNICO - It's fair to say that Mauro Icardi's live chat on Facebook was a roaring success. The Nerazzurri skipper sat down to respond to questions sent in by the fans on Thursday afternoon and they just kept rolling in!
From his injury to Luciano Spalletti's influence at the club, the upcoming summer tour and Inter's aims for 2017/18, below you can read a selection of Icardi's answers.
"I've only been here a few days but it's enough to see just how passionate the fans are. Their support is so important to us. There are loads of kids here and it's nice to spend time with them after training and give them autographs and photos. We all try to do as much as we can to make them happy.
"As for the new boss, he seems really fired up. He wants to succeed and he conveys a lot of positive energy. He's come here with an excellent backroom team and they've got us working well, both on the pitch and in the gym.
"Unfortunately I haven't been able to train much with the rest of the team yet. At the end of last season I did some work with Argentina as well to try and recover as quickly as possible. In any case, I should be back in full training next week.
"We're doing lots of running and gym work at the moment to build up our leg strength and make sure we start the season with good muscle tone.
"There's a great atmosphere in the dressing room – we're a close-knit group, contrary to what some people have said in the past.
"The target we all have, from the owners to the players, is to qualify for the Champions League, especially as there's an extra place available this year. The club and Suning group are working really hard to get Inter back to where we should be.
"They came in a year ago and they're making lots of changes. We all want to make Inter great again and we know we have their backing. We're going back to China next week for the first time in two years. We'll get to know Nanjing and play some big friendlies there.
"On a personal level, I hope to keep scoring and doing my bit for the team but I'd be happy to score less if it means we're successful as a team.
"Inter is all about passion. It's hard to sum up what it means to be Interisti in one word. This club and these fans are unique.
"Playing at San Siro is an amazing experience – only if you're at the stadium during the match can you truly understand what it feels like.
"Being captain of Inter means so much to me. It's a huge responsibility and a huge honour considering who's worn it before me.
"It would be a dream come true for me to win the league with Inter. I've said lots of times that I want to win silverware here. It won't be easy but we'll see where we are come the end of the year.
"Last year I scored loads of goals playing with Ivan Perisic and Antonio Candreva. Now we have Borja Valero as well and he's a top-quality player who I'm sure can chip in with a fair few assists. I'd never be able to grow my beard like him though...
"Milan Skriniar did really well at Samp last year. He's young and can get a lot better yet. We're happy to have him here with us.
"As the captain, I've already had a quick word with all the lads. I've welcomed the new guys and tried to help them adjust to life at the club and make them understand what Inter is all about.
"Fortunately I seem to score against Juventus quite often. It's always good to hit the net against them, regardless of how good a goal it is. It was a fantastic feeling to score in the last derby too, although it was annoying when they equalised in stoppage time.
"I spent some time playing in goal as a kid but then I always played centre forward. Gabriel Batistuta was my idol when I was in Argentina.
"Thanks to everyone for writing. Those of you who are here in Brunico, I'll see you soon. To all the other Inter fans, see you whenever!"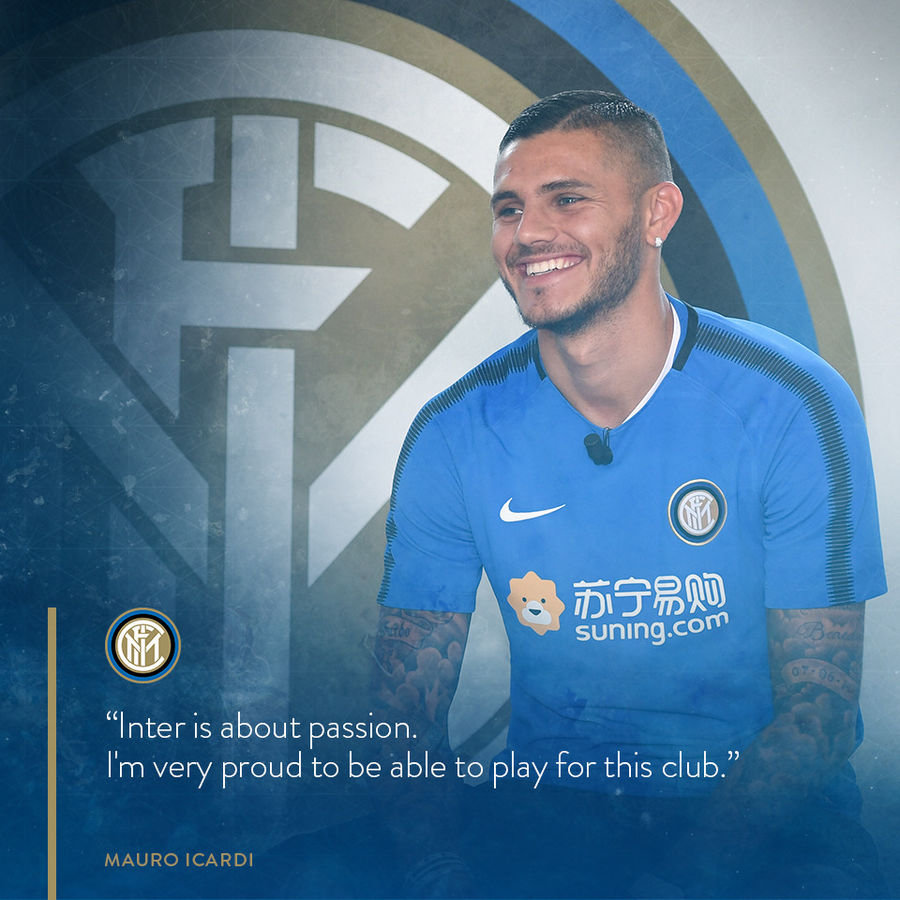 Versión Española 日本語版 Versi Bahasa Indonesia 中文版 Versione Italiana